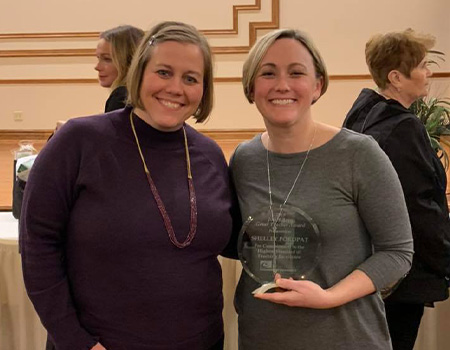 Our teachers have an average of 15 years of experience.
The faculty and staff of St. Raymond model life-long learning by participating in different opportunities that allow them to grow as educators: from professional workshops to professional readings and collaborative coaching cycles; they are driven and seek excellence in their instruction with students.
Every year our teachers find meaningful ways to give back to the community. Each February, we gather as a faculty and staff to serve dinner to the residents of Daybreak Shelter.  In addition, the faculty and staff can be seen giving back to the community on their own:  mentoring through Big Brothers Big Sisters, coordinating drive-by Santa and collecting toys for the children's hospital, building a sandbox at our local park.  Many also lector and serve as Eucharistic ministers at St. Raymond and in their own parishes.
Our teachers take their responsibility of forming saints seriously.  It is the heart of our work.  We are excited to partner with every family who walks through our door to help raise children who are the best example of Christ's love.